Earth Day Events Held by Qinling Zhongnanshan UGG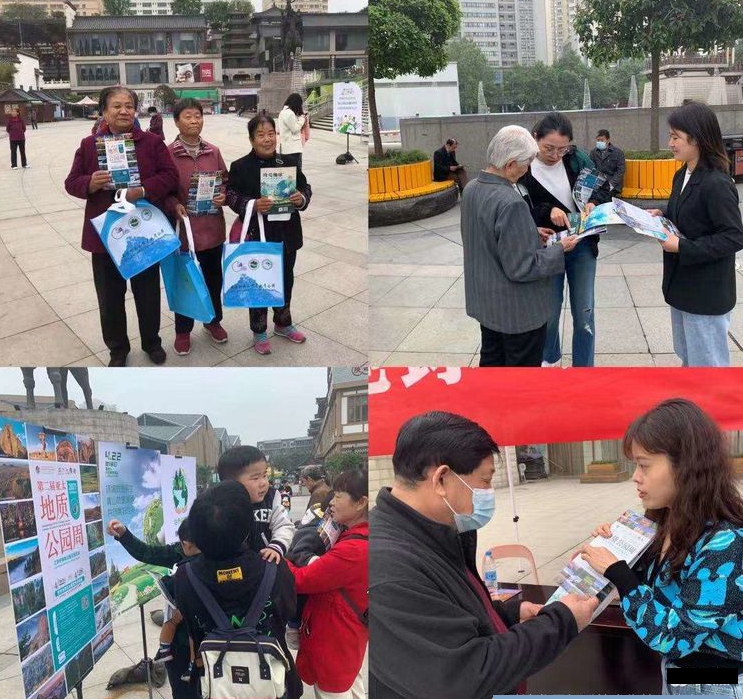 According to the requirements of Shaanxi Provincial Department of Natural Resources, colorful events were held on the 52nd Earth Day on April 22nd aiming to guide the public to firmly establish the concept of "clear water and green mountains are gold and silver mountains" and "the harmonious coexistence of man and nature", to show the public the protection and development achievements of Qinling Zhongnanshan UNESCO Global Geopark, to stimulate the young people to form the ecological awareness of getting close to nature, understanding nature and protecting nature.
At the Tang West City Square in Xi'an, Qinling Zhongnanshan UNESCO Global Geopark, together with 19 other global geoparks across China, held the Earth Day publicity event with the theme of "Treasuring the Earth, Harmonious Co-existence between Man and Nature". The public can get free tickets of the geoparks by scanning the code and answering questions.
At the same time, another group of geological science popularizing volunteers went to Tangfangmiao Primary School at the foot of Cuihuashan to help students establish the concept of caring for the Earth and protecting Qinling.
The science popularization panels and PPT prepared by volunteers for this Earth Day activity introduced the Qinling orogeny and the formation of the Cuihuashan Mountain landslide in detail. Volunteers explained the science in a simple way and won the applauses of students. There was also an interactive session to answer questions with prizes, to further convey the theme of Earth Day and to tell the protection stories of Qinling. The lively and interesting lecture left a deep impression on students, which made them learn in practice and grow in perception.
Since 2021, our geological science popularization team has carried out nearly 20 science popularization activities, with a total number of students reaching nearly 1,000 person-times. The activity not only brings geological science knowledge to the public and students, but also enables students to know about Qinling and to visit Zhongnanshan, and promotes the connection between science popularization work and academic education of school.