The Promotion Meeting of the Integration of Scenic Areas and Rural Areas Was Held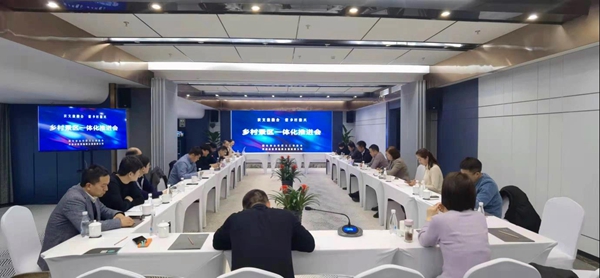 In order to further accelerate the pace of integration of agriculture, culture and tourism, give full play to the resource advantages of the whole industry chain of geopark and promote rural revitalization, on March 1st, Qinling Zhongnanshan Global Geopark Tourism Development Co., Ltd. and surrounding communities held a meeting aimed at promoting rural scenic area integration. 19 people from Taiyigong Street, Zhongnanshan Company, Cuihuashan scenic area attended the meeting.
On the meeting, the professional design company gave a report on the plan of the development of scenery and communities integration in Cuihuashan scenic area, the core scenic area of Qinling Zhongnanshan UNESCO Global Geopark. And then the two sides discussed more about rural area development on the basis of the tourism line from Cuihuashan scenic area to Taiyigong Huayuan community. They had in-depth exchanges on the mode of "scenic area + cooperative + peasant household", parent-child farming research, farmland rent and high-quality farmhouse accommodation.
With high standards of planning, design and execution, the geopark will continue to promote the whole-area tourism and rural vitality to drive related villages and villagers to get rich and form the new development path of rural area and tourism integration to promote community development and meet citizens' needs of leisure and vacation in a better way.