2022 National Science Popularization Day & the "Sister-geoparks Linkage"Activity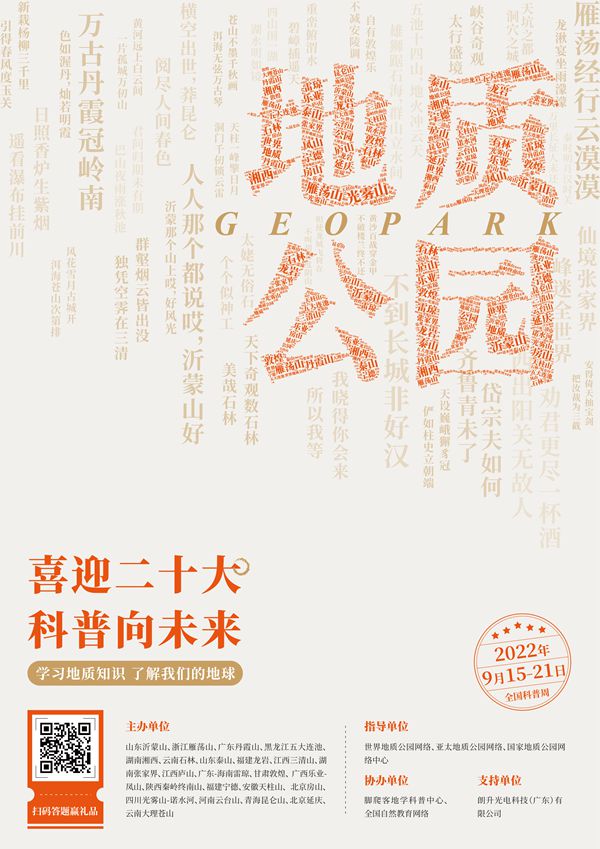 In order to promote the scientific spirit, enhance the vitality of scientific and technological innovation, disseminate scientific knowledge of natural resources, promote scientific and technological innovation achievements, strengthen the cooperation in terms of sister-parks' science popularization work, and display the results of science popularization work of global geoparks, Qinling Zhongnanshan Global Geopark, together with 23 global geoparks in China, launched the 2022 National Science Popularization Day and the "sister-geoparks linkage"activity. The activity plan is as follows:
1. Activity Time
Sep 15th -21st, 2022.
2. Activity Theme
Clelebrate the 20th National Congress of the Communist Party of China with the science popularization activity - learn geological knowledge and know our earth.
3. Organizing Structure
(1) Organizer
Qinling Zhongnanshan UNESCO Global Geopark, Shandong Yimengshan Global Geopark, Zhejiang Yandangshan Global Geopark, Guangdong Danxiashan Global Geopark, Heilongjiang Wudalianchi Global Geopark, Hunan Xiangxi Global Geopark, Yunnan Shilin Global Geopark, Shandong Taishan Global Geopark, Fujian Longyan Global Geopark, Jiangxi Sanqingshan Global Geopark, Hunan Zhangjiajie Global Geopark, Jiangxi Lushan Global Geopark, Guangdong-Hainan Leiqiong Global Geopark, Gansu Dunhuang Global Geopark, Guangxi Leye-fengshan Global Geopark, Fujian Ningde Global Geoparkv, Anhui Tianzhushan Global Geopark, Beijing Ffangshan Global Geopark, Sichuan Guangwushan-nuoshuihe Global Geopark, Henan Yuntaishan Global Geopark, Qinghai Kunlunshan Global Geopark, Beijing Yanqing Global Geopark, and Yunnan Dali Cangshan Global Geopark.
(2) Guiding Units
Global Geopark Network, Asia Pacific Geopark Network, and National Geopark Network Center
4. Online Activity
To know more about geological relics through pictures match game.
You can participate in the game by scanning the QR code. The game pictures are seleceted randomly from the picture pool provided by the 23 global geoparks. The time limit for each pass is 40 seconds, and with 10 successive passes you can participate in the lottery to win the prize. More than 1,000 prizes are provided including backpacks, umbrellas, traditional Chinese medicine sachets, red bean strings, chopped peppers, bookmarks, pendants, postcards, picture books, canvas bags, tableware, dolls, schoolbags and tickets, etc. This activity will be held from 00:00, Sep 15th to 23:59, Sep 21st.